5 Reasons Enterprises Need a Mobile Device Management Solution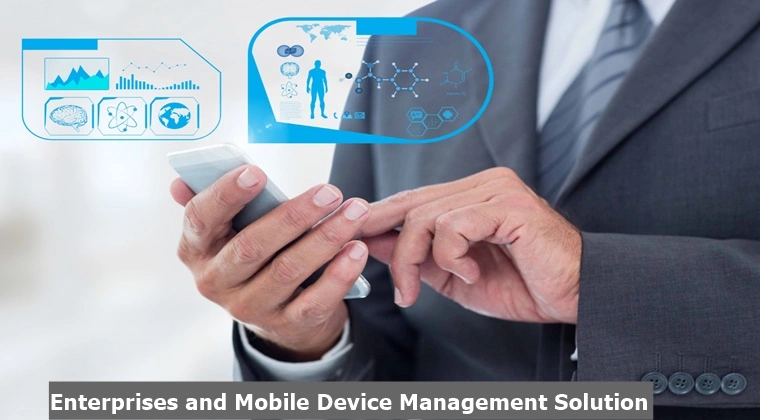 Introduction
Today's business world is highly reliant on mobile devices for performing daily tasks. It has now become a fundamental component of the business environment. The majority of workers own a mobile device which they use to carry out daily business operations. The findings of Cisco reports state that the employees prefer using their own mobile devices for work and are more productive when using their own gadgets by saving an average of 81 minutes every week.
Although such popularity of digital devices for work purposes is effective and improves performance but poses serious security and privacy risks. Therefore, such increased use of digital gadgets without proper mechanisms to manage mobile devices for performing business activities couldn't be allowed to grow at such a fast pace. Corporations face serious security threats when they allow employees to connect unmanaged mobile devices to their networks as these devices could have malware or faulty configurations.
What is Mobile Device Management (MDM) solution?
To overcome these concerns, MDM software can be an effective tool to manage mobile devices either personal or corporate-owned to be used for performing business-related tasks. The MDM solution allows administrators to control the devices by pushing approved apps and configurations so that employees cannot access unnecessary applications or functionalities. It provides the following incredible features that necessitate corporates to employ MDM software in their system.
Enhanced security: One of the most important benefits of the MDM solution is the security it provides. With the help of MDM solutions, the IT team can manage the mobile devices of employees in a way that they remain up-to-date, secure, and conformant to the security policies of an organization. To do so, MDM solutions can enforce stringent security policies and controls including remote wipe features, device encryption, and robust passwords. This assists in combating data breaches and unauthorized access to ensure conformity with data protection rules and regulations.
Improved productivity: MDM solutions provide employees the ease to work from the comfort of their homes which increases their productivity. Moreover, the managed devices contain approved apps, web pages, and configurations due to which all employees can work easily even if the device is complex to use. In the same way, this feature helps to manage mobile devices so that they cannot be misused, and employees can perform their tasks with honesty. Using the MDM console, admins can install patches and updates remotely that ensure devices are up-to-date and operating properly.
Cost-effectiveness: The MDM software plays a pivotal role in managing expenses and saving money by minimizing the time, resources, and efforts required to maintain and manage mobile devices. To manage mobile devices, MDM software enables IT admins to automate routine tasks such as security updates, app distribution, and device provisioning that deallocates resources and staff members to concentrate on other strategic projects. In addition, with the help of the MDM solution, administrators can easily control internet data usage by enforcing limits on the consumption of data which eventually reduces expenses.
Compliance with regulations: In this information era, compliance with standards and regulations is essential in almost all sectors. The MDM solution can help enterprises to comply with legislations like HIPAA, GPPR, HITECH, PCI DSS, etc. by enforcing stringent security policies, approved app distribution, and secure configurations. In this way, organizations can manage mobile devices effectively, secure their confidential data and ensure compliance with standards as well to avoid penalties and fines.
Remote troubleshooting: MDM solutions support remote working and can manage mobile devices present in mission-critical environments and fields. So, in case of the device malfunction, MDM software provides remote troubleshooting, and the IT team can fix the issue even if the device is not present physically. The admins can view and manage mobile devices from a centralized MDM console to resolve the problem. It gives real-time exposure to technical issues so that necessary support can be provided.
Conclusion
To conclude, the MDM solution is an effective tool to manage mobile devices of employees in a secure manner. Due to the popularity of BYOD and remote working, a huge number of mobile devices are connected to corporate's networks. MDM software helps in implementing security policies that ensure the accurate use of a mobile device and protect organizations from security breaches. Therefore, it is essential for all organizations to have an MDM solution to protect their threat landscape and manage their devices fleet.