How MDM Software Can Help in Healthcare Department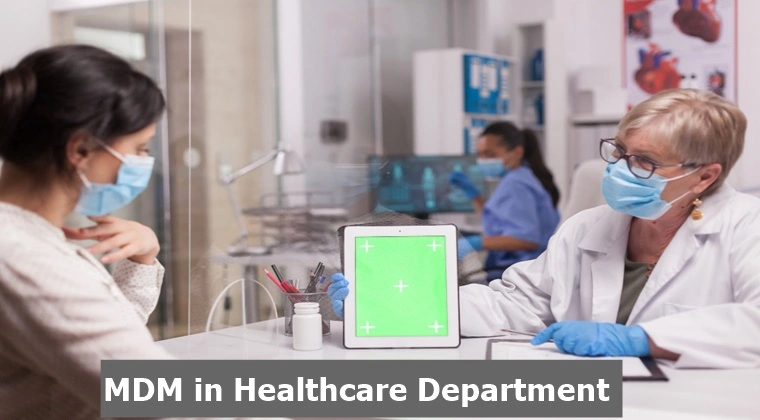 Introduction
The healthcare industry has undergone several changes in providing treatments over the last few years. One of the key contributors to these shifts is technological advancement. Out of all the major innovations, the influence of enterprise mobility is significant in transforming the daily activities of healthcare professionals.
The continuous development of novel technologies and tools has ensured the quality of patient care and rehabilitation but on the flip side, it has opened numerous Advanced Persistent Threats (APTs). Each piece of software can be exploited by malicious people to access confidential data or to hinder operational performance.
In this scenario, the role of Mobile Device Management (MDM) is pivotal as it secures the device's fleet and protects confidential data by creating a restricted environment. Some of the ways in which MDM security solutions can help the healthcare industry are discussed below.
Informed Decision Making
With the help of MDM software, IT teams can push required apps, software, and web pages with predefined configurations and settings. The availability of useful and relevant content on mobile devices enables caregivers to make timely and lifesaving decisions for their patients.
The installed apps on the mobile devices of physicians and nurses via MDM security software provide patient records, medical history, allergy information, notes by professionals, and ongoing treatments. They can access this information and get the assistance they require without any delays. Timely access to this information can save time and the lives of patients.
Inventory Management
The role of the MDM security solution is crucial in terms of managing a fleet of devices. It helps in maintaining records of all the devices including hospital-owned or personally-owned ones connected to the hospital's network.
It also tracks location, OS, Wi-Fi settings, installed apps, battery status, app logins, and storage to deal with emergencies and protect devices by installing updates and security patches. In addition, the MDM security tool helps hospitals in determining the lost or stolen so that necessary actions like locking a device or wiping its data can be taken. The immediate actions can save the data and help in maintaining security.
Improved Patient Experience
MDM-enabled devices ensure the timely delivery of patient records to physicians. Based on this, healthcare professionals can quickly respond to patient queries, which improves the patient experience.
Moreover, with the help of the MDM security suite, the context-aware and real-time interaction between patients and healthcare professionals is possible which provides precise and efficient resolutions to the concerns and queries of patients. Apart from this, managed mobile equipment connected with beds/patients enables secure and safe patient monitoring.
The well-organized records of patients along with the fast responses from physicians improve the quality of health treatments to a great extent. It also improves the overall patient experience.
Kiosk Mode
The kiosk mode offered by the MDM security tool turns hospital devices into kiosks (either a single app or multi apps) which disables staff to misuse the device. The kiosk-enabled devices can only be used to perform work-related tasks as all other apps and functionalities are disabled by the IT teams. This assists healthcare organizations to reduce data usage and avert device misuse.
Compliance
The healthcare sector is highly regulated by international standards and regulations as they store and process confidential patient information that needs to be protected. Non-compliance with regulations incurs huge financial losses and ruins healthcare organizations' reputations. In this scenario, the restricted environment provided by the MDM security app helps in conformance with the regulations as it allows staff to use authorized apps/web pages deployed by the IT team.
All other functionalities are blocked by the admin, thereby ensuring compliance with the policies and standards. Similarly, unnecessary peripheral controls such as copy-paste, taking screenshots, attaching removable media, and unauthorized network connections are disabled by administrators. This limited access to resources assists hospitals in following requirements set by international standards.
Remote Management
MDM provides IT admin ease to remotely manage and configure mobile devices. This includes installing apps, enabling updates, and troubleshooting issues. In hospitals, the IT support team can use a centralized MDM console to run troubleshooting tasks over the air, which means that hospitals can manage devices without having to physically access them which contributes to increased productivity and reduced downtime.
Apart from this, MDM security program also allows IT admins to remotely lock and wipe the device in case of loss or theft, thereby preventing data breaches.
Digital Signages
The kiosk-powered digital signages significantly provide awareness regarding diseases, their precautions, and remedies. Moreover, these devices can also be used to advertise promotional content, offers, and discounts to attract customers. Digital signage offered by MDM security software can also be used to provide details of physicians, contact information, working days, and office location to assist patients.