HIPAA compliance with the MDM solution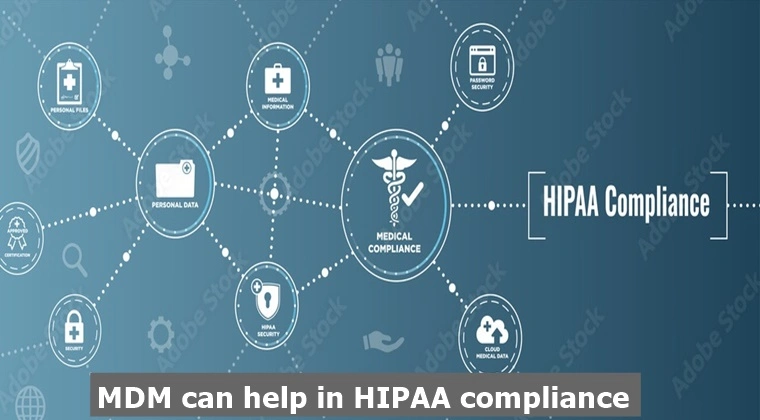 Introduction
The role of Mobile Device Management (MDM) software is pivotal in terms of managing and securing mobile devices that store and protect Protected Health Information (PHI) as it allows the IT team to configure devices according to the threat landscape of a healthcare organization. It ensures compliance with the Health Insurance Portability and Accountability Act (HIPAA).
Nowadays, several healthcare organizations are at risk of being non-compliant with this regulation due to the mismanagement of devices at work. The staff employs personal devices at the hospital which are not properly patched and have malicious apps that result in disclosing PHI. Most of the medical staff is non-technical and therefore can unintentionally breach the confidentiality of PHI due to misuse of the device.
Following are the ways in which MDM configuration can help in ensuring compliance with HIPAA.
Remote device management:
The MDM configuration enabled by this comprehensive solution provides admin liberty to manage mobile devices remotely. To ensure the confidentiality of ePHI, IT admins can lock, wipe or update devices remotely. It helps in ensuring the protection of PHI in case the device gets stolen or lost as data can be wiped remotely therefore unauthorized entities cannot access sensitive information.
Moreover, the MDM solution offers a de-provisioning feature that lets the IT team set up MDM configuration in a way that retires a device when an employee leaves the job. In this case, data is erased, and the device can be re-configured according to the policies of the healthcare organization, or the device can be disposed of properly if depreciated. To enhance protection, the IT team can monitor the location of devices from a centralized console so that necessary actions can be taken in case the device leaves designated areas.
Data encryption:
With the help of the device management centralized console, the admin can enable robust encryption standard software such as AES-256 in the MDM configuration profile to ensure the security of data and keys at rest. Likewise, the confidentiality of ePHI can be maintained at transit as well by employing secure protocols like SSL and TLS. The activities of the user can also be limited by using a pre-configured Virtual Private Network (VPN) and corporate Wi-Fi. In addition, MDM software enforces app-level encryption policies to ensure that only authorized apps can access ePHI.
Enforcement of device policy:
To ensure the privacy of patient data, the MDM configuration file can be set up to deploy password policies such as password length, use of special and alphanumeric characters, password age, etc. multi-factor authentication schemes, and other related device-level security configurations. These settings can include disabling rooted or jailbroken devices.
The incorporation of such devices opens novel threat vectors as they can bypass built-in security configurations. Administrators can also enforce device-level policies in MDM configuration profiles such as disabling the camera, disabling copy-and-paste functionality, and disabling screenshots to protect PHI. Moreover, MDM software can ensure compliance by requiring the latest OS version/software and disabling/remediating devices if it is not compliant with the defined set of policies and standards.
The updates must be scheduled for hours when the device is not in use for official tasks. In this way, devices remain updated, and all unverified devices or configurations can be checked immediately, which is an important step for conformance with laws.
Compliance reporting:
Another important feature offered by MDM software is providing detailed reports regarding compliance status, device status, inventory of enrolled devices, battery status, and installed configurations. By enabling these specifications in the MDM configuration profile, admins can demonstrate conformance with HIPAA and identify loopholes where additional security controls are required.
Mobile Application Management (MAM):
MDM software allows healthcare organizations to push approved apps to employees' mobile devices while blacklisting unnecessary apps, configurations, and settings. It allows IT administrators to secure, manage and monitor access to PHI by mobile apps.
Moreover, using a customized MDM configuration profile, the admin can wipe sensitive data stored in apps in case the device gets lost/stolen or an employee left the job. Similarly, file sharing through apps and other means such as Bluetooth, NFC, USB file transfer, or Android beam can be blocked with the help of MDM software.
Apart from these, MDM configuration can include containerization capabilities that create a separate work profile through virtual segregation. This separation enables users to access authorized apps only and ePHI can be processed and stored in this restricted area only and cannot be transferred to personal space and apps by any means.
Network security:
MDM software can also help in ensuring that mobile devices accessing PHI are connected to secure network connections. MDM software can also enforce compliance with network security policies, such as requiring a Wi-Fi connection with WPA2 encryption and connecting to pre-configured Wi-Fi only.
With the help of its comprehensive and amazing features, MDM can help in various ways to regulate HIPAA compliance. Organizations must use good MDM software to get help.