What is Mobile Device Management Solution (MDM)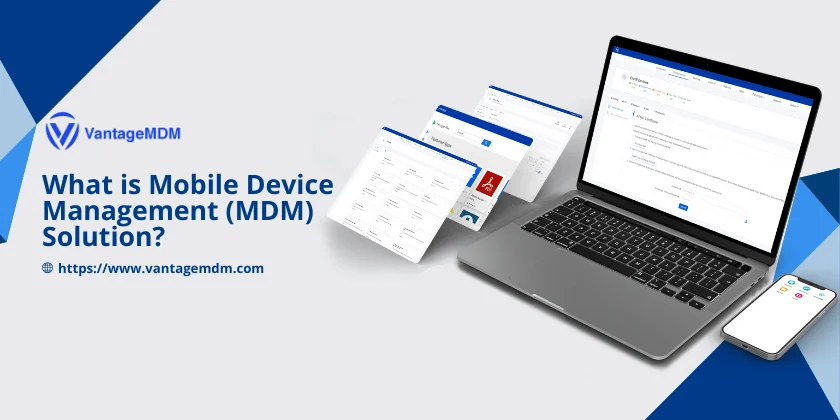 Mobile Device Management solution, also known as MDM software, is considered an integral aspect of the modern business since digital devices are now connected to organizations' networks; thereby, accessing their information and resources. Since this incorporation of digital devices continues to increase in business, its management is challenging.
MDM is a suite of tools and techniques that allows corporates/administrators to control mobile devices including tablets, smartphones, laptops, etc. A good MDM software also enforces policies compliant with organizations' Standard Operating Procedures (SOPs) and external regulations. With the assistance of MDM solutions, an organization can implement an aggregate of the company's guidelines, applications, certificates, backend software, and on-device configurations to easily manage end devices. To ensure scalability and flexibility, the MDM solution provides multiple platform support including Apple, Windows, Android, ChromeOS, and MacOS. It can be installed and configured on all these platforms using mobile, laptops, and tablets.
The Use of MDM Software
In this information age, the advancement of network technologies, the inclusion of digital devices, the popularity of cloud services and infrastructure, and the ease of remote work settings have transformed business dynamics. On top of that, the outburst of the COVID-19 pandemic has altered the canvas of business operations by introducing remote working.
It is evident that to remain competitive, organizations must embrace changes and adopt this new way of working. By accepting this change, organizations are now gaining several benefits in terms of increased productivity, profits, and flexibility.
To perform daily business-related tasks, employees utilize corporate-owned or their own devices that put corporate's sensitive data at stake. Moreover, in this scenario, it is very difficult to manage and regulate employees' activities, which can cause insider cyberattacks. This is a major reason for data theft and the poor reputation of organizations. Since customer data is an asset, therefore, to protect its confidentiality several regulations like GDPR, HIPAA, PCI DSS, etc. have been passed and organizations must comply with them to carry out their operations.
In such a scenario, Mobile Device Management (MDM) solutions play an integral role in protecting customer data and organizations' trade secrets by managing the activities of employees and installing required applications and configurations. MDM software provides ease of remote working in an extremely controlled manner aligned with corporate policies, laws, and regulations. It acts as a single and centralized point of management for governing devices present across the globe.
How does MDM Software help in compliance?
MDM solutions can play a vital role in ensuring compliance with regulations like GDPR, HIPAA, etc. as these acts require organizations to follow the principle of 'privacy by default', which means confidential data of customers should remain protected and cannot be shared without their consent.
The MDM solution follows this principle by enforcing strict policies on passwords and authorization, limiting access of users to certain apps, software, websites, and services based on the principle of least privilege. It also blocks unnecessary apps, settings, permissions, etc., locking devices to one or more applications/services, and continuously monitoring the activities of employees. The presence of all these security measures in MDM ensures the confidentiality of data by limiting attack surface and hence helps in ensuring conformance with regulations.
Modes of Mobile Device Management solution
To protect sensitive data and ensure seamless business operations, Mobile Device Management software can manage both personal and corporate-owned devices. Depending on the scenario, it works in two different modes.
Bring Your Own Devices (BYOD): In the case of the personally-owned devices, the device is provisioned as profile owner based on which the MDM solution creates a separate work profile on the device that can be considered as a logical container, which segregates work and personal space. The administrator only has access to the workspace and cannot enter the personal profile of an employee, hence ensuring the privacy of users. All the policies or configurations distributed from the MDM server can be applied to the workspace only.
Moreover, MDM distributes applications to the work profile in the device and has full control over them. The user cannot copy any data from his work profile to the personal space. Likewise, users cannot install any software/application to their work profile, therefore, their data and activities remain secure. Apart from this, the MDM solution makes sure that malware or virus in personal space does not affect corporate data.
Corporate-owned devices: In this case, the organization holds full control over the device and applies additional controls including blocking factory reset, camera, altering settings, geo-locks, location tracking, kiosk mode, etc. to ensure the protection of data from any unauthorized disclosure.
How do mobile device management solutions work?
For efficient working, the MDM solution counts on the server that can be either cloud-based or on-premises and an MDM agent. With the help of the MDM server's management console, IT administrators can supply policies and configurations, and then the MDM server pushes all those commands over the air to a particular agent installed on the mobile device. By making use of the Operating System's native Application Programming Interfaces (APIs), agents impeccably implement policies and configurations to the device.
Features of the MDM solution
The role of MDM solutions is remarkable in terms of managing configurations of devices in a centralized manner. It ensures device configuration, provisioning, updates installation, wiping, network connectivity, and all other remote actions in the most secure manner.
In short, it provides organizations the liberty to implement mechanisms that authorize devices requiring access to corporate resources and monitor devices/resources accessing the company's data. It also segregates or entirely removes unauthorized devices from the network and installs custom configurations, updates, software, and policies to devices for preventing security breaches. Some of the key features of remote device management service are discussed below.
Policy provisioning: In order to maintain control over mobile devices, the MDM solution allows administrators to set up configurations and policies that are compliant with organizational SOPs and regulations. For instance, using the MDM console, the administrator can configure data loss prevention policies like restricting copy-paste, screenshot capture, clipboard, and sharing of files for minimizing unauthorized leaking of confidential data.
Similarly, by following the principle of least privilege, access to data should be limited and revoked once the operation is complete. It guarantees that employees are using mobile devices in the most secure way that is conformant with the rules and regulations of the corporate.
Applications management: The remote Mobile Device Management software allows administrators to push required applications along with predefined configurations, permissions, settings, and logins to employees' devices to ensure hassle-free and flexible application onboarding.
Apart from this, administrators can easily block applications and features that can be malicious so that data can be protected from unauthorized disclosure and Advanced Persistent Threats (APTs). In the same way, administrators can enforce or terminate software updates to maintain control over the device.
Inventory management: It is another important feature of Mobile Device Management (MDM) as it helps admins in keeping track of all enrolled devices, their software, configurations, and apps. This feature is quite helpful as it prevents devices from getting stolen or lost, or if it happens, MDM software suggests appropriate actions that can be taken to retrieve the device or deactivate it.

Security and compliance: The MDM solutions protect corporate data by enforcing strict security measures and device-level security controls. Using MDM, employees perform tasks in a limited controlled environment where all applications and software are managed and monitored by administrators. To enhance security, MDM can set policies to block URLs, passcodes, software updates, and applications to provide enhanced security.
Moreover, in case the device gets stolen or lost, a mobile device management solution allows administrators to remotely wipe, lock or locate it for protecting corporate data. Likewise, the MDM solution decreases the attack surface by only allowing the installation of approved applications.
Geo-fencing is another important feature allowed by MDM software, which confines access to a virtual fence. To be more precise, if the device is present at a particular location, then access to data will be granted. Similarly, employees cannot install unnecessary applications or functionality which prevents unauthorized data disclosure; thereby ensuring compliance with both organization's policies and external regulations like GDPR, HIPAA, PCI DSS, etc.
Kiosk mode: The MDM solution allows the administrator to lock down a mobile device to a single or a group of assigned applications, buttons, and functions to assure the right amount of access. Moreover, the MDM solution allows autonomous single-application kiosk mode to lock applications on the basis of location, session expiration, and time.

Deprovision: MDM solutions provide options to retire the device or wipe its data when an employee resigns from the organization. In this case, corporate data remains secure even after the employee lefts corporate but holds his personal device. Similarly, if the device gets stolen or is lost then it can be locked, or data can be wiped altogether.
Applications of MDM
With the change in the way of working, Mobile Device Management software can be employed in almost all sectors. Some of the use cases of MDM software are discussed below.
Transportation and logistics: The MDM solution is an effective solution for transportation as it allows enterprises to monitor and control the devices for ensuring compliance with rules and regulations like the Federal Motor Carrier Safety Administration (FMCSA) ELD Final Rule. Moreover, it helps in managing approved apps, software, websites, and services while restricting others. The MDM software also provides a console to view the location of vehicles to avoid delays and monitor their entry-exit points through a virtual fence.

Retail: In the retail industry, MDM solutions can help in monitoring and controlling the devices by pushing approved applications, configurations, websites, and services and blocking all other functionalities in line with regulations and policies. Moreover, its kiosk mode helps in converting traditional devices to Point of Sale (POS) and digital signage for improving sales.

Healthcare: Just like other sectors, the healthcare department has also undergone several changes due to technological advancements. The hospital staff including physicians, nurses, specialists, lab technicians, and paramedical staff now employs both personal and hospital-owned mobile devices to offer improved health treatments, informed decisions, precise diagnoses, and timely services.
Since health data is critical and regulated by stringent privacy laws, therefore, remote mobile device management software helps the hospital to comply with these regulations by restricting access to limited apps, software, services, and settings aligned with policies.
Education: With the prevalence of e-learning, it becomes crucial to manage both the personal devices of students and the ones provided by schools from misuse. The MDM solution allows teachers to install apps, services, and software required to perform course-related and learning-aided activities while blocking others. With the internet filtering mechanism, access to unnecessary websites can be blocked. Using digital signages, students remain aware of all the events and extracurricular activities happening in schools. This improves social skills, emotional intelligence, and problem-solving capabilities of students. In this way, the controlled environment provided by MDM provides parents and instructors the liberty to view the activities of students and manage device usage.
Conclusion
Mobile device management software is an effective solution to manage corporates' resources and information in a quite streamlined and seamless manner. It extends device scalability and support, improves user flexibility, and maximizes the organization's productivity while conforming to its policies and external regulations. It is an incredible solution for ensuring secure access to corporate resources by setting up a secure connection and implementing device-level reliable controls. So, knowing what is mobile device management is integral for all the industries if they want to work efficiently.