Role of MDM software in GDPR compliance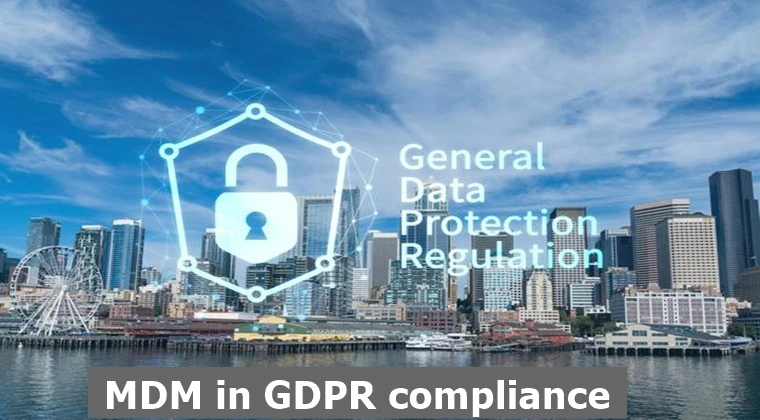 Introduction
Over the last few years, the use of mobile devices has become a popular way of performing business operations in the workplace. It allows employees to manage their tasks remotely with great efficiency. However, the excessive use of mobile devices in business is generating novel threat vectors that breach the personal data of customers. This can cause huge financial losses and impacts the reputation of the organization due to non-compliance with General Data Protection Regulation (GDPR).
To address this issue, Mobile Device Management (MDM) is considered a robust tool that can help with the administration of mobile fleets. It provides a range of security and management features that can protect mobile devices to ensure compliance with laws like GDPR. Organizations can benefit a lot through the use of this amazing software.
Here are some specific ways in which MDM software can assist with GDPR compliance are discussed below.
Compliance reporting:
With the help of MDM software, IT teams can identify and manage non-compliant devices remotely using the centralized console. This software provides a detailed report on potential compliance breaches such as detecting outdated OS/app versions, rooted/jailbroken devices, data exfiltration, and unauthorized access attempts.
Depending on the scenario, the administrator can take remedial action such as disenrolling the device, installing updates, reconfiguring the device, or wiping the data to avoid non-conformance. Hence, this software helps organizations to detect and handle potential GDPR compliance breaches efficiently. Once you know about the breach, you can take the necessary steps to control it.
Data encryption:
The MDM software enables admins to enforce advanced encryption algorithms such as AES-256 to protect data stored on mobile devices. It ensures the confidentiality of data both at rest and in transit.
To ensure protection while transmitting data over the network, the MDM solution enables employees to communicate through a pre-configured Wi-Fi network and VPN connection with robust algorithms like WPA2, SSH, and TLS. All these measures prevent unauthorized disclosure of personal information, which is a major requirement of GDPR.
Access control:
The MDM solution can be widely used to enforce access control approaches for sensitive data stored on mobile devices. The principle of least privilege can be incorporated by limiting the access of both users and apps to certain data or resources for which they are authorized. For ease, MDM software enables admins to define groups depending on the role and access permissions. This way, you don't need to manage anything manually.
Whenever a new device is enrolled, it is assigned to one of the defined groups so that all the permissions and configurations can be set up automatically. Moreover, using the MDM portal the access rights can be revoked once the job is done or the employee is no longer authorized to access that data. To detect unauthorized access, MDM software can also track and log all access attempts and usage of personal information.
Remote wipe:
MDM software can be configured to remotely wipe specific or selective data from a mobile device, including personal data if the device is lost or stolen. This feature can be triggered automatically or manually and can also be set to wipe data after a certain number of failed login attempts.
Moreover, MDM software also enables the admin to retire a device if the employee has left an organization. In this case, factory reset settings will be enabled on the device which wipes all the data.
App management:
MDM software enables admins to push approved apps with selective permission on employees' mobile devices. It further allows the admin to monitor the usage of apps on the device and restricts them to access, store, or transmit personal information without permission. All other applications can be block listed from the unified portal and users cannot install them by any means.
Device configurations:
To avoid unauthorized data leakage, the MDM solution can deactivate basic controls present in mobile devices. These include disabling Bluetooth, removable media, NFC, copy-paste capabilities, and screenshot capturing.
Likewise, to maintain data confidentiality, MDM solution can enforce a stringent password policy that specifies its length, age, and use of special and alphanumeric characters for achieving optimal protection. In case of violation, an alert can be generated for taking appropriate measures.
Data Retention and destruction:
MDM software can configure mobile devices to retain data for a certain period of time and erase data that is no longer needed. Moreover, the software also enables admins to delete the personal data of a customer if he has requested deletion. The automated policies for data retention and deletion can be set up using the MDM console for ensuring compliance with GDPR.
BYOD:
MDM software can be used to manage and secure personal devices that are used for work purposes. In this case, a separate work profile is created on the employee's device on which pre-approved and pre-configured apps can be installed while blocking all other apps and web pages.
The employees can access the personal data of customers in a very controlled environment and cannot transfer it to the personal profile. In this way, all the actions of employees can be managed from the MDM console while ensuring their productivity and performance.
For any organization concerned about the safety of data and managing it, MDM is the best tool that can not only help with such issues but also helps in making the work better.