The Importance of Data Privacy in Remote Working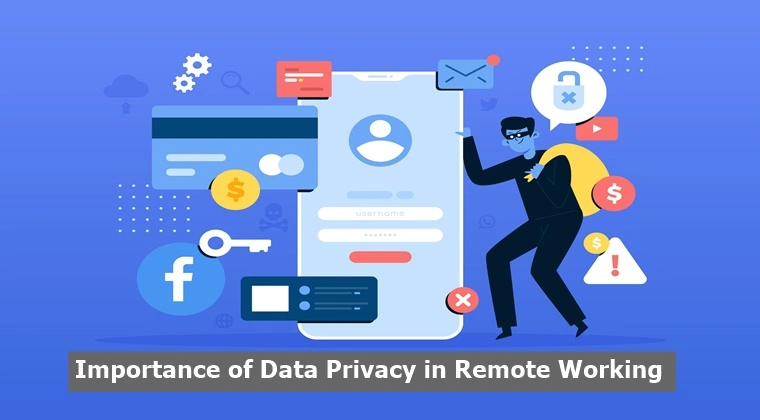 Today's connected world has revolutionized the way businesses carry out their basic operations. It has greatly impacted on the daily activities of employees using a variety of handheld computers and mobile devices to perform their duties. Although the incorporation of these devices brought convenience and flexibility to professionals' lives but posed serious security and privacy issues that need proper consideration to avoid losses.
Mobile Device Management software is an effective approach to manage devices present at different geographical locations. This article highlights the privacy issues that emerged with the introduction of remote working and suggests some best practices to address those challenges.
An Overview of Privacy Risks Associated with Mobile Devices
In today's data-centric world, mobile devices have become attractive targets to disclose confidential information and breach the privacy of users. Mobile devices are equipped with several functionalities like cameras, Bluetooth, GPS, etc. that can be exploited to exfiltrate information. Following are some of the ways in which cybercriminals can steal information.
The mobile device contains a huge amount of personal as well as work-related information in an unencrypted form which attackers consider an easy pathway to access corporate data.
Furthermore, mobile device users access public wi-fi and numerous untrusted apps and websites due to which delivery of malware is comparatively easy that further helps in stealing sensitive information.
Significance of Data Privacy in Remote Working Environments
Preserving the privacy and security of corporate data is extremely important in the case of remote working as employees use mobile devices from distant locations to access and process sensitive information.
In absence of appropriate security measures, critical corporate data including customer information, trade secrets, and financial information could be leaked which results in impacting reputation, incurring penalties, and cause downtime for operations.
Data Privacy by Mobile Devices Management Solutions
Considering the above security and privacy issues, it is quite important to manage mobile devices remotely so that cyberattacks can be mitigated. To this end, Mobile Device Management (MDM) software emerges as an important approach that assists administrators to manage corporate or personal devices of employee that stores or processes their sensitive data.
The MDM allows the IT team to monitor the devices of employees, enforce policies, push approved apps, set compliance standards, and apply remote wipe settings in case the device gets stolen, breached, or lost.
Best Practices to Ensure Privacy in Remote Working
To gain the maximum advantage of remote working while preserving the privacy of corporates and employees, the following practices should be adopted by organizations. The enterprises should enforce these practices with the help of MDM solutions.
Enforce password policies: With the , IT admin must enforce strong passwords with a certain length, age, and alphanumeric characters. Employees should be discouraged a similar password for multiple applications. In the same way, passwords should be changed/updated periodically, and if necessary multi-factor authentication mechanisms must be enabled to provide additional security.
Data encryption: To prevent unauthorized disclosure of sensitive information, encryption protocols should be implemented to protect data at rest and transit. Moreover, the use of Virtual Private Networks (VPNs) should be encouraged to avoid potential data breaches.
Network security: For additional protection, organizations must deploy certificates-based security such as PKI and other security protocols like TLS, IPsec, and WPA to ensure the confidentiality of data and prevent cyberattacks.
Updates and patch management: Another important measure that must be considered by corporates is the installation of patches and software updates as it helps in covering security vulnerabilities. The MDM software can be used to install these updates forcefully once they are available.
Ensuring the privacy of critical data is quite important in remote working environments. Enterprises must take appropriate steps to secure corporate data while providing employees with the ease and flexibility to work from their homes or devices. With accurate security controls in place, organizations can leverage the benefits of while maintaining strict control over their data.