How To Ensure Compliance With Third-Party MDM Service Providers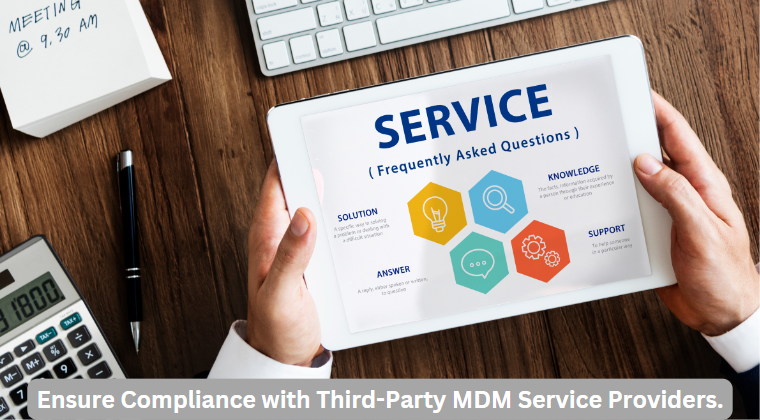 Today's business world has witnessed a huge transformation in terms of working dynamics with the popularity and inclusion of Information Technology (IT). Nowadays, employees widely use mobile devices to carry out their daily activities. In such a scenario, Mobile Device Management (MDM) plays a vital role in managing these digital devices for ensuring security.
When it comes to selecting the deployment structure of the MDM solution, most organizations opt for outsourced MDM software in which a third-party service provider is accountable for managing the solution and providing the services.
This approach is beneficial for organizations in terms of budget and quality of services as their staff is highly skilled and experienced in managing . However, this approach comes with several challenges regarding compliance and privacy.
This article explores the risks and challenges associated with outsourced MDM solutions and suggests ways to overcome those concerns.
Security and Privacy Risks of Using Outsourced MDM Solution
The following are the risk factors associated with outsourcing MDM solutions to some third-party vendors.
Compliance issues: The business organizations store and process confidential information of customers, trade secrets, and other financial information due to which they must be compliant with regulations like GDPR and PCI DSS.
In the case of outsourced MDM software, the third-party vendor might not be compliant with such business regulations and process sensitive information resulting in non-conformance with regulatory requirements. It negatively impacts the reputation of the organization and incurs fines and penalties as well.
Lack of transparency: Third-party vendors are often not transparent about their due to which the attack surface of an organization increases. The organizations are unaware of the security policies and controls and are therefore not prepared to deal with cyber-attacks, disasters, and business continuity.
Lack of control: When organizations choose to adopt outsourced MDM solutions then they have limited control over the security practices and control that the third-party vendors implement to manage mobile devices. Due to this minimal control over the policies, organizations cannot predict that the implemented controls are robust enough to protect enterprise security.
Data breaches: Since third-party service providers store and process sensitive data of organizations, therefore, they are an attractive target for hackers to attack. In case of a successful cyberattack, the reputation of the organization is at stake, and it has to face legal and financial penalties as well.
How to Ensure Compliance and Privacy with Third Parties?
To ensure compliance and security, organizations must follow the practices listed below.
Select a trustworthy and reputable service provider: First, organizations should invest time in assessing third-party vendors' track records, compliance history, reputation, and experience before selection. The vendor should have an excellent record of offering MDM services, ensuring compliance with regulations, and providing transparency regarding policies and controls.
Defining requirements: Organizations should be very clear about their security and privacy requirements regarding data storage, processing, transmission, disposal, encryption policies, access control, monitoring, and auditing. In addition, the roles and responsibilities of both entities should also be defined clearly.
Agreement: A detailed agreement must be signed between the two parties that cover security and privacy requirements, duration, scope, and termination of MDM services. Moreover, this agreement also includes provisions for incident response, dispute resolution, data breach, and non-conformance consequences.
Conclusion
Outsourcing MDM solutions to third-party service providers is an effective approach for organizations to manage their devices within budget. However, it has several challenges that must be considered properly for gaining a maximum advantage of MDM solutions.