Outsourced MDM: Scalability & Business Needs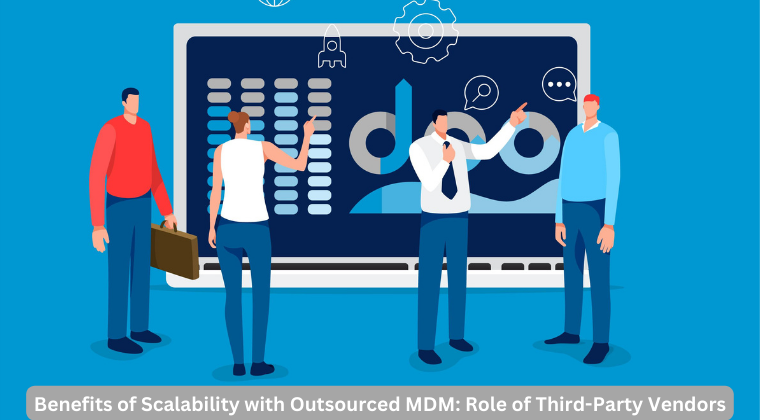 performing business operations. As the business grows, the number of mobile devices also increases exponentially, so organizations require a robust to manage their device fleets.
In such a scenario, most organizations prefer to choose an outsourced MDM solution as it provides flexibility, scalability, and security that lets businesses expand their operation without fearing about security and management of such an increasing number of mobile devices.
Let's explore ways in which outsourced MDM solutions are helpful in growing businesses by providing effective management.
What is an Outsourced MDM Solution?
This type of MDM solution is managed by a third-party vendor and provides services to organizations for securing and managing their mobile devices. In this case, the organizations do not manage the solution themselves but rely on third parties to provide them with management services.
These solutions are based on a pay-as-you-go approach in which the organization must pay for the functionalities required to manage its resources.
How do Third-party Vendors help Businesses to Grow?
Third-party MDM vendors provide a range of functionalities and features that can assist businesses to streamline the deployment and management of mobile devices while ensuring security. The following are some ways in which outsourcedMDM solutions offered by third-party service providers can help businesses grow
Scalability
One of the most important advantages of an outsourced MDM solution is its scalability. For small businesses and SMEs, managing growing business needs and device fleets is a challenge. Managing such an increased number of devices is cumbersome and overwhelming for small to medium-sized organizations.
Third-party vendors have skilled staff, technical expertise, and complex infrastructure therefore can handle the growing needs of businesses with ease. In this case, organizations do not need to procure servers and other hardware equipment or hire technical staff that can support a huge number of devices.
Customization
Third-party service providers can help businesses to expand their operations by providing customized solutions. With growth businesses' needs or priorities also change due to which organizations might require customized solutions.
For instance, some organizations might require high-security mechanisms while others might prioritize cost-effective solutions or ease of use. The outsourced MDM solution can professionally cater to all these requirements within budget by providing a tailored MDM solution.
Improved Security
With the incorporation of advanced technology and mobile computing, the attack surface of business organizations has increased rapidly. Therefore, organizations of all sizes require security controls depending on the criticality of data and assets.
The security controls include remote wiping of data if the device gets stolen or lost, two-factor authentication, mobile threat protection, encryption, VPNs, and network security mechanisms.
Remote Management
As remote working becomes more prevalent and organizations are now expanding by hiring remote workforces, managing their devices to protect organizations' data and monitoring employees' performance becomes a challenge for organizations of all sizes.
The MDM solution can assist these growing organizations by providing a single console to manage the devices of all the employees at different geographical locations. enable the IT administrator to check that the approved apps are deployed on employees' devices along with all the policies and compliance standards.
Moreover, the IT team can also configure kiosk mode to limit the functionality of the device and ensure compliance with organizations' SOPs.
Outsourced plays a pivotal role in assisting organizations to grow by providing features like technical expertise, cost-effectiveness, customization, remote management, etc. that eventually lead to scalability. The right service provider can help businesses to fulfill their growing requirements and priorities with ease.