How IT Department Helps In Deploying Self-Managed MDM Solution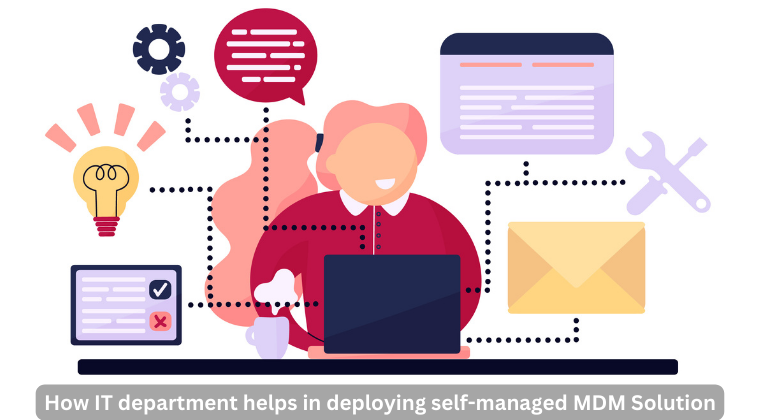 The ever-increasing use of mobile devices demands a Mobile Device Management (MDM) solution that can secure the threat landscape of an organization while increasing the productivity of employees. For large corporates and other sensitive organizations, the self-managed MDM model is an optimal solution as it provides additional control and liberty to manage IT devices.
The role of the IT department is pivotal in this regard as these employees are technically sound and capable enough to configure and deploy MDM software. However, for the successful and effective implementation of self-managed MDM, cooperation and communication between different departments and stakeholders are essential factors.
Here are some best practices that the organization, especially IT departments, should follow to ensure accurate deployment and .
Device Identification
First, the IT department should communicate with other departments to identify the devices, OS versions, installed apps, configurations, and settings so that support for different platforms can be incorporated into the MDM solution.
Enrollment of Devices
Another important phase where collaboration and communication are required includes the enrollment of devices whether it is a corporate-owned device or BYOD. The steps should be communicated to other departments and employees so that this process can run smoothly.
Access Rights Provision
Next important step is to enlist all the users, their roles and responsibilities, and the privileges that they require to perform designated duties and tasks. This data can be collected by collaborating with different teams so that the confidentiality of data can be preserved. Moreover, groups can also be created based on this data so that rights assignment can be automated.
Configuration Management
Once the devices are enrolled, the next important step is to configure the solution in a way that meets the requirements of an organization. This phase generally includes setting up accounts, configuring security settings, and defining policies at a broader level.
Security Policy Definition
This is one of the most important steps in which input from all stakeholders is required. All the departments store and process sensitive data in different ways for which their security requirements are different.
The IT department in collaboration with other teams should define a security policy that fulfills the needs of a particular group. Once this customized policy is created, the employees can be added to their respective groups depending on the required privileges.
Compliance-Related Requirements
Since businesses deal with the sensitive information of customers, they must conform to the applicable regulatory requirements. The IT department should communicate with other departments to identify the standards with which the organization should comply. Consequently, appropriate security controls and policies can be implemented to avoid penalties and fines.
Integration With Other Systems
Another important phase is to integrate the MDM solution with other software or system used by different departments so that data remains consistent throughout the organization and accurate operations can be performed. Therefore, the IT department should communicate with other teams to identify platforms and discuss compatibility issues so that they can be resolved in a timely manner.
Maintenance And Monitoring
The IT staff should continuously monitor the system to identify errors or technical issues so they can be addressed properly. Apart from this, software updates and security patches should be installed on employees' mobile devices to secure the organization from malicious attacks.
Support and Training
Finally, the IT department should provide to troubleshoot errors and resolve their queries to minimize downtime. In addition, training sessions should also be arranged to ensure the effective use of the MDM solution and to provide awareness regarding security issues and controls.