How MDM can Help in Zero Trust Security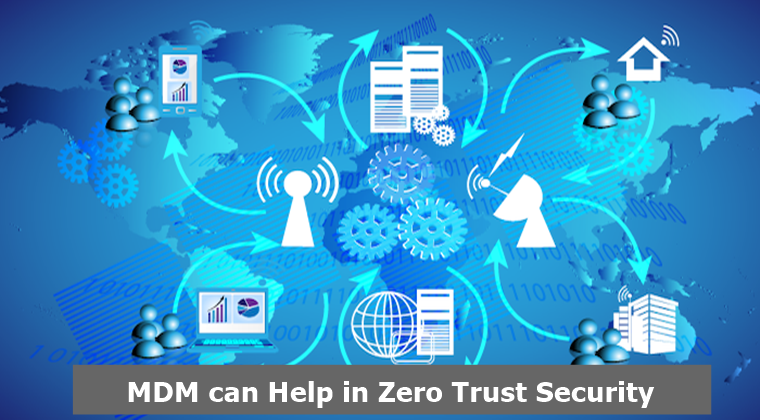 Today's digitized corporate world has been witnessing a huge number of security breaches that impacts the reputation of organizations and incurs huge financial losses as well. The traditional security measures taken by corporates are focused on perimeter-based defenses coupled with layers of fragmented protection controls.
However, these mechanisms no longer assist in achieving optimal security as the nature of the business environment has been changed with the inclusion of technology, Bring Your Own Devices (BYOD), and remote working. That is why companies need some sort of remote device management system to manage these devices and secure the assets. The MDM policy can assist corporates to protect from novel attack vectors.
Zero Trust Security
To secure the assets of organizations from cyber criminals, Zero Trust Security approaches emerged as a promising technology. As its name suggests, the core concept of this approach is to not trust IT devices based on their ownership, location, etc. but focused on continuous authorization and authentication of devices, resources, and users. And that is where MDM software is playing its role in implementing these policies at best.
To be more precise, it is a data security scheme in which all the devices either within or outside the parameter must not be trusted by default and should be verified through several security checks to ensure optimum protection. The MDM policy introduces mechanisms that thoroughly authenticate devices before allowing them to access corporate resources.
By defining MDM policy, Zero Trust Security mechanisms can be implemented that ensure secure authorization and authentication along with the least privilege principle at each device/resource and its access operation rather than implementing policies at the outer perimeter only. It implements a fine-grained access control mechanism by bringing down authorization from the perimeter to the resource level.
For gaining maximum security, Zero Trust Security approaches authenticate user devices, protect end devices, and ensure the security of the network, applications, and data along with continuous monitoring.
Role of MDM software in Implementing Zero Trust Security
To enforce zero trust security, MDM software plays a significant role. This solution provides administrators to enforce customized MDM policy that provides them with full control over the devices connected to their network may it be corporate-owned or personal devices of employees. The important features of mobile device management software that can be used to employ zero-trust security policies are discussed below.
App distribution: Using the MDM solution, IT admins can push approved and trusted apps with preconfigured logins, settings, and permissions to employees' devices that are required to perform business operations. The employees are not allowed to install any other app or activate any disabled feature in their work profile.
Moreover, they are unable to export data from their work profile to their personal space when MDM policy is pushed onto their devices. Likewise, features like copy-paste and screenshots can also be disabled. In this way, organizations can achieve zero trust security as employees can use authorized apps in a very controlled environment without any chance of data leakage.
Device configurations: The MDM software provides IT admins an opportunity to manage the settings and configurations of devices. Using the centralized MDM dashboard, IT admins can set up data loss prevention policies such as disabling screenshot capture, clipboard or copy-paste, unauthorized sharing of files, device password policy, blocking malicious URLs, and enforcing/terminating software updates.
All these features limit the activities of employees to trusted and authorized actions that eventually help in adopting zero-trust security policies.
Kiosk lockdown mechanism: Another feature offered by MDM assists admins to restrict a device to run a single or group of trusted apps only depending upon the defined MDM policy. In this way, employees can only use devices to perform trusted activities as misuse is blocked by the kiosk mode. Hence, this feature of MDM is quite helpful in applying zero-trust security mechanisms.

Authorization: The administrators can configure the MDM policy to assign privileges/permissions to access the company's resources and data based on the role of the employee. In this way, unauthorized and untrusted employees cannot access the organization's sensitive data which is a key principle of implementing zero trust security.

Role-based access: The MDM solution enables IT admin to group employees based on their role in the MDM policy for assigning privileges at one step. In this way, the admin can add employees to a particular group like admin, manager, user, consultant, etc., and trusted policies will be configured automatically. This ensures zero trust security mechanisms are implemented at workspaces.

Deprovision: Mobile device management provides a method to retire a device in case an employee resigned from the organization. The security of data is of great importance therefore it should be wiped from the device as it is no longer a trusted device. Similarly, in case the device gets stolen/lost, the IT admin can set up MDM policy to automatically wipe the data and lock the device. All these principles support zero trust security as untrusted devices cannot be employed in organizations at any cost.
To conclude, to secure this untrusted IT-driven business environment the role of Zero Trust Security approaches along with the help of MDM software is quite promising. It can help in minimizing both internal and external attacks and protect businesses while being competitive.