How MDM policy can help organizations in achieving SOC-2 compliance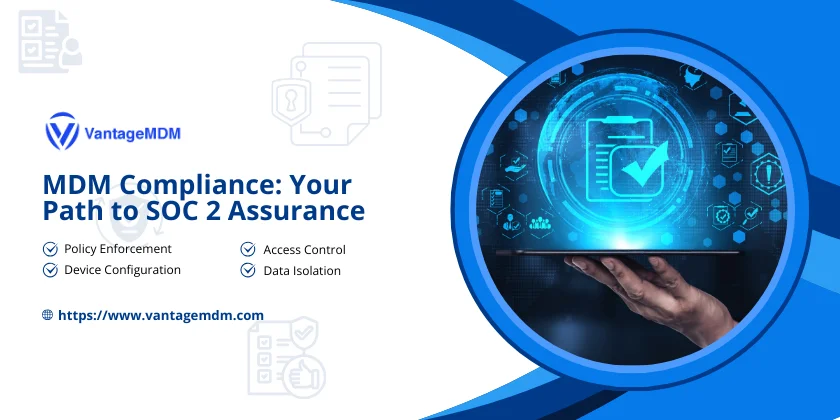 Introduction
In today's digitized world, enterprises now leverage the benefits of cloud computing technology to outsource their business operation to third parties for cost-effective solutions. However, in this case, the organizations are susceptible to various Advanced Persistent Threats (APTs) due to the mismanagement of data.
To prevent cyberattacks, System and Organization Controls 2 (SOC 2) compliance reports provide additional insights regarding the security posture of an organization. It ensures stakeholders and customers that third-party SaaS organizations are well-aware of security principles and are committed to protecting customers' privacy and organizational interests.
SOC 2 is centered on Trust Services Criteria which include five trust principles including confidentiality, security, integrity, availability, and processing integrity for protecting organizational data.
It is a standard for service organizations that specifies the management of data. The role of Mobile Device Management (MDM) software is vital in terms of achieving these five trust principles to improve the security landscape of an organization. This solution enables the admin to implement an MDM policy that takes care of devices connected to their network, sensitive data, and other critical services so that cyber-attacks can be mitigated.
Features of MDM for SOC 2 Compliance
Following is the detailed discussion of features provided by MDM to comply with the Five Trust Services Criteria of SOC 2.
Security
MDM policy plays a pivotal role in protecting organizational data and resources from security breaches and unauthorized access.
Data encryption: MDM software can provide advanced security features such as device encryption using AES-256 or similar encryption algorithms, which can encrypt data at rest and in transit.

Password management: MDM software can also enforce robust password policies to protect devices with strong, complex, and unique passwords. Moreover, the policy should specify the time period after which the password should be changed. Apart from this, the MDM solution can also enforce multi-factor authentication to further secure device access.

BYOD management: To manage the personal devices of employees, an IT admin can configure containerization capabilities in MDM policy which as a result creates a separate work profile containing approved apps and configurations for performing job responsibilities. All other functionalities of the mobile device are blocked in this mode and the user cannot transfer organizational data to personal space.

Network data security: To ensure data security at transit, IT teams can configure VPN and Wi-Fi with advanced security parameters in MDM policy so that mobile devices connect through these resources only. In this way, employees cannot connect to unsecured networks, eventually preventing data exfiltration.

Kiosk mode: This functionality offered by MDM software can lock down a device into one or a set of apps required to perform business operations. All other apps and features of a device can be blocked via a customized MDM policy to avoid misuse of the device.

Device configurations: To avoid data leakage, MDM software can be configured to disable copy-paste, screenshot capture, clipboard, Bluetooth, removable media, and NFC functionalities. Moreover, unauthorized file-sharing apps cannot be installed to limit data sharing.

Incidence response and remediation: The MDM software provides functionality to secure organizational data even if the device is lost or compromised by locking it remotely. If the device is unretrievable, MDM software can remotely wipe the device. This can include selective wipes, where only the corporate data is deleted, and personal data remains.

Approved apps: With the help of the MDM console, the admin can push approved apps by including them in MDM policy so that apps required for performing business operations are accessible to employees. The employee is unable to install any other application for entertainment purposes. This functionality of MDM software also helps in strengthening the security of data by pushing software-based firewalls to prevent unauthorized access.
Availability
This principle ensures that the system, data, or other resources are available for use in a secure manner.
Compliance reporting: MDM software can provide automated reporting and compliance dashboards, which can help organizations view configurations, settings, and status of enrolled devices. This helps admins to track compliance of devices with SOC 2 and organizational policies so that remedial actions can be taken in case of non-compliance. In such a way, the device could be readily available to users.

Monitoring: MDM software can be used to monitor mobile device usage and activities. The MDM policy can be defined and deployed to track login attempts, device location, and application usage. This can help organizations identify and respond to potential security threats in real-time.
MDM software can also be used to manage the configuration of mobile devices, such as installing software updates, configuring settings, detecting jailbroken/rooted devices, and managing user accounts. In case the event regarding non-conformance occurs, it should be contained immediately for ensuring the availability of the device.
Processing integrity
This requirement makes sure that the processing of the system is authorized and efficient. The MDM software can help in achieving processing integrity in the following way.
Access Control: This feature-enriched software can be used to set MDM policy and controls for device usage, including the ability to restrict access to certain applications and data based on user roles or device location. For example, organizations can use MDM software to configure VPN or other secure network access controls to restrict access to sensitive data when the device is not connected to a secure network.
This can help to prevent unauthorized access to sensitive information. MDM software can also be used to enforce device compliance policies, such as minimum OS version, Wi-Fi data usage, jailbreak detection, and device encryption.
Confidentiality
This principle assures that the sensitive data of an organization must remain confidential.
Access management and encryption approach: For this MDM policy can restrict access to data based on need, authority, and role. The principle of least privilege can be implemented to manage access to resources. Similarly, confidentiality can be preserved with the help of encryption algorithms, VPN technology, and pre-configured Wi-Fi networks.
Privacy
This trust principle requires organizations to process personal data within some defined boundaries.
Containerization: The MDM solution preserves privacy by creating a "container" on a device where all corporate data and apps are stored. This container can then be secured with a passcode or biometric authentication, and the data can be encrypted to prevent unauthorized access.
The MDM policy can be deployed in a way to control access to the container, only allowing approved apps and users to access the corporate data. This way, personal data remains separate and private, while corporate data is managed and secured as per company policies.