Building Trust in Remote Teams through Mobile Device Management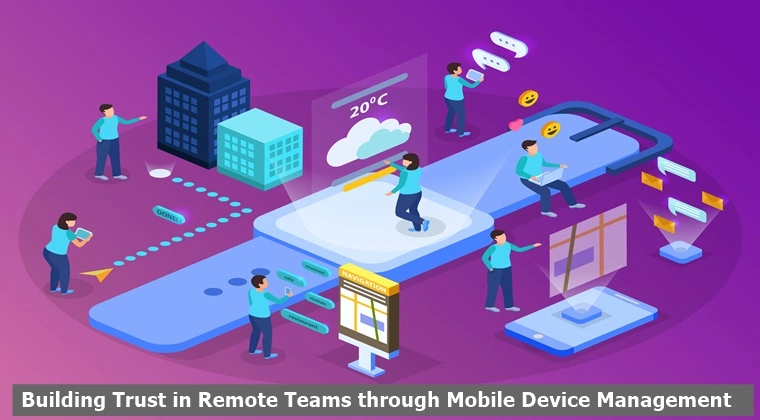 In the last few years, remote working has become a new global trend that has improved the productivity and performance of employees. A report by Forbes states that 70% of the workforce in the US will be working remotely soon.
Therefore, today's technology-driven and highly competitive business market requires all organizations and SMEs to support remote working. On one side, remote working provides lots of benefits including increased productivity, flexibility, ease, and comfort but brought several challenges as well.
One of the important issues that require consideration is developing trust among the workforce which is dispersed at different geographical locations. Since trust is an important element to empower employees and gain their loyalty toward the growth of an organization.
The role of Mobile Device Management (MDM) is pivotal in terms of establishing a productive and secure environment that promotes trust among the team working remotely. This article discusses practices that can be adopted with the help of MDM to develop trust.
Mobile Device Management Solution
It is a suite of technology that can be used to manage and monitor the digital devices of employees. It helps business organizations to keep track of all their devices, their installed software and OS, and configurations. With the help of the MDM console, the IT admin can easily push approved apps, configure policies, set compliance standards, and update OS.
How MDM software helps in building the trust of remote employees?
The MDM solution provides employees with a more streamlined and managed way to perform their roles and responsibilities. The monitoring features assist employers to track the activities of employees and evaluate their work to award bonuses and appraisals if they are working well. Apart from this, MDM software plays a major role in building trust which is discussed below.
Privacy and Security:
In remote working environments, most employees use their own devices containing personal information that makes them curious about privacy and security. In the absence of appropriate security measures, the targeted attacks to steal corporate information may access the personal data of employees.
In the same way, the employers monitoring devices of remote workers could breach privacy of employees by viewing their personal information stored on the same device. These issues make employees reluctant due to which they can't trust employers.
The MDM solution provides an effective approach to deal with this concern by providing containerization capabilities that segregate corporate and personal data on the same device by creating a logical container. The employer cannot access or monitor the personal space of employees whereas on the flip side workers cannot transfer or copy corporate data from work profile to personal area.
Transparency:
The MDM software assists employers to be transparent about their practices regarding collection of data and its processing. It provides remote workforce the visibility of the type of data being collected from their device.
The dashboard of the MDM software displays the information regarding the apps, policies, and configurations that are pushed onto employees' devices and gives insight about information captured from employee's device to be used for audit trail and monitoring.
By presenting such level of transparency and showing the honesty and openness regarding the SOPs, corporates can easily develop trust of employees as in such environment the personnel feel more confident that the organization, they are working for are concerned about their privacy and are committed to transparent and ethical data practices.
Facilitating Communication:
The MDM software provides a variety of ways in which team leaders or managers can communicate with the employees working remotely. It offers secure communication channels including virtual meeting platforms and messaging apps that assist managers to connect with their team in real-time.
All these tools help in building trust among employees as it shows that their opinions or inputs on different business affairs matter a lot, and the organization respects their viewpoints and wants them to be engaged and informed regarding important matters. This, in turn, makes employees feel more confident and connected to the organization and builds their loyalty towards the benefit of the organization.
The role of MDM software is important in building trust of remote employees. It helps managers to protect the privacy of employees, facilitate communication, and provide transparency so that remote workforce remains aware of all the policies and procedures. By following these approaches, managers can develop a culture of trust that helps in attracting emerging talents and retain employees.