Digital Signages: Enhancing Student Awareness through MDM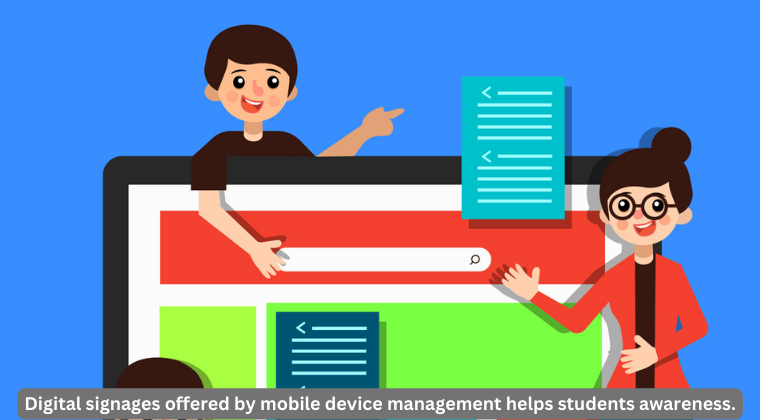 Digital Signages: Enhancing Student Awareness through MDM
In today's technology-driven world, educational institutions are continuously on a quest to find and adopt innovative solutions that take education quality to the highest level. Education in general goes far beyond the courses and subjects taught in the classrooms.
Schools are also responsible for promoting Social Economical Learning (SEL). For that, they need to deploy technology-aided solutions that can spread self-awareness, empathy, problem-solving skills, emotional management, and social skills. All these qualities help learners to excel in both academic and personal life.
What is Digital Signage?
Digital signage uses Mobile Device Management (MDM) configurations to control digital screens for displaying promotional or informational content. The kiosk features of MDM are used to restrict these screens to display some ads or information.
Since it is placed in public places of educational institutes, security is a major concern. The lockdown mechanism of MDM controls the screen, and no other functionality of the device can be used by students.
Digital signages offered by MDM solutions appear as an effective approach to communicating and reinforcing the policies adopted by schools with students, instructors, and managerial staff.
The role of digital signage is pivotal in developing SEL among learners as it helps in fostering communication, improving mental health, and suggesting ways to deal with emergencies and crises. This article explores ways in which digital signage, a feature of MDM, can help in improving students learning.
Digital Signage to Improve Students Learning and Engagement
The following are some of the ways in which digital signage spreads awareness.
Information Dissemination
Digital signage is the primary source of spreading information. This feature provided by , news updates, and announcements. The remote management features enable instructors and administrators to update and control content so that vital information can be shared timely.
When it comes to sharing academic calendars, registration reminders, class schedules and cancellations, and any other campus news, digital signage ensures that students are up-to-date and have the latest information.
On-campus Services and Available Resources
Being enrolled in an educational institution, students get busy with classes, lectures, and assessments and hardly find time to access other services offered by institutes to develop SEL. In this regard, digital signage can play a vital role as it acts as a showcase to advertise students' counseling services, medical aids, libraries, students club, literacy societies, sports activities, and career centers.
These kiosk-enabled digital devices are used to provide contact information, focal person details, operating hours, and other related information. By making these details available, the school administration can ensure positive student engagement and utilization.
Management of Emergency
To deal with emergencies, particularly in educational institutes, digital signage is quite valuable. Using kiosk-enabled digital signage IT admin can easily broadcast messages regarding evacuation routes, precautionary measures, safety information, or any other relevant knowledge required to ensure protection. With remote update features, the admin can continuously update this information so that students receive timely updates and take appropriate actions.
Advertisement of Extra-curricular Activities
Extra-curricular activities are always important for the holistic development of SEL. It boosts the confidence of learners and develops problem-solving skills. MDM-powered digital signages assist the IT team to advertise event details, timings, venue, and registration information. The advertisement along with interactive elements develops the interests of students and creates engaged and exciting on-campus culture.
Navigation and Wayfinding
Another important use of digital signage is to provide real-time help in finding ways, especially for new students and visitors. Most campuses of universities are quite expanded and complex as well due to which reaching the desired department becomes difficult.
Therefore, by displaying building layouts, interactive maps, and directional information, these digital signages make it easier for students to find their classrooms, department, lecture halls, cafeteria, and other administrative or faculty offices.
Conclusion
Digital signage offered by MDM Solutions is an effective tool for providing an efficient and dynamic means of communication. Its role in promoting SEL is quite important as it provides them a chance to avail themselves of all the opportunities, activities, proceedings, and extra-curricular events thereby developing empathy, emotion management, problem-solving, and social skills.