Customized Features in Kiosk Mode – How Can You Benefit?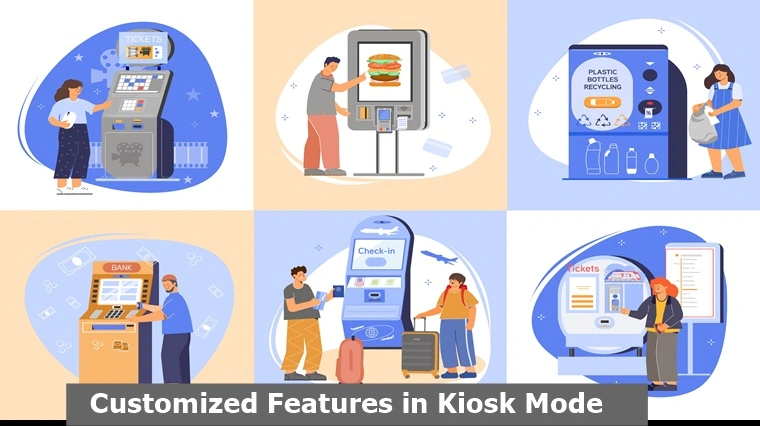 Mobile Device Management (MDM) solution is a robust tool that allows corporates to control and manage the mobile devices of their employees. It allows IT admins to push authorized apps and policies to have full control of the device.
Kiosk mode is one of the features of MDM software that enables organizations to limit access of employees to a set of specific pre-approved applications and web-links while disabling all other functionalities of the device.
One of the important functions of kiosk mode is to manage customization features that enterprises can use to develop engaging and tailored user experience. Using these customized features, you can avail a lot of benefits and resolve multiple issues.
Customized Features of Kiosk Mode
Following are some of the ways in which kiosk mode promotes customization for attracting employees, customers, and visitors.
Branding
One of the most important customization options provided by the kiosk mode of MDM software is branding. It enables corporates to add their visual elements like logos, text, and color to the graphical user interface of kiosks. This assists organizations to create a consistent brand experience for customers.
Using CSS stylesheets or custom skins, organizations can successfully create a coherent brand experience for their customers. To further improve branding, some kiosks enable enterprises to use custom images or other graphics.
Themes
Likewise, setting a customized theme is another important strategy to change the overall feel and look of the kiosk's graphical user interface. It helps organizations to create a memorable and unique user experience.
Theming options allow corporates to modify design elements including fonts and color schemes. For ease, some MDM solutions allow organizations to use an already-designed template of a theme that can be customized to fulfill the requirements of an organization.
Layout
This type of customization allows IT administrators to change the arrangement and sequence of user interface elements such as icons and buttons for enhancing the customer experience.
The important function an admin can perform include resizing elements, adding/removing more components on the user interface, setting the wallpaper, and repositioning buttons. Some of the kiosk software also provides drag-and-drop editors that can be used to make changes in the layout easily.
Peripheral controls
Apart from the above-discussed customization features, the MDM solution allows the admin to disable unnecessary options like home buttons, notification bars, power, volume, and shutdown buttons for ease and flexibility.
However, such an option is available for multi-app kiosk mode only. Likewise, built-in peripheral functions including the camera, GPS, Wi-fi, audio, Bluetooth, and screen orientation can also be controlled in multi-app kiosk mode. The user cannot turn on/off all these options by using any means.
Customized content
Other customization features allowed by some of the Mobile Device Management solutions include the capability to add custom videos or content in the user interface and manage their integration with other third-party applications and social media for better reach. Moreover, admins can also allow multi-language support on the kiosk interface to deal with the language preferences of their customers.
To conclude, the kiosk mode offered by MDM solution is an incredible feature to create an engaging and personalized user experience that plays an important role in improving customer loyalty, sales, and engagement. Not only it can help you save a lot of time and resources, it can make your work efficient.