Integration of kiosk mode with other enterprise systems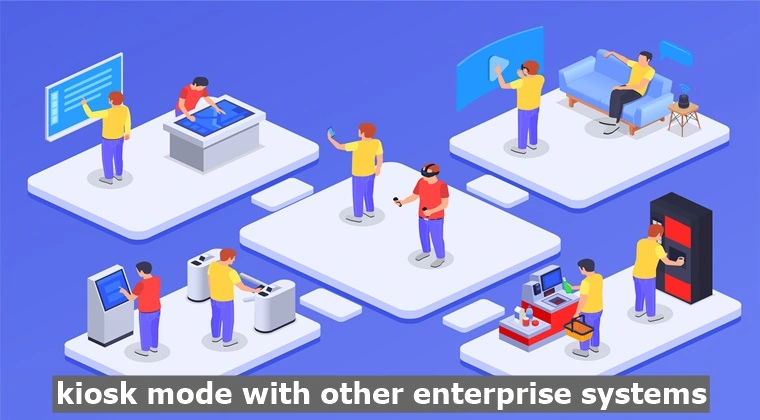 Introduction
In today's fast-paced business world, it is extremely important for organizations to have efficient and streamlined workflows that can fulfill the market and customers' requirements. Integrating kiosk mode with other enterprise systems is one of the effective ways by which businesses can achieve this objective. This article explores the potential of the kiosk mode offered by the Mobile Device Management (MDM) solution to be integrated with other corporate systems particularly inventory management tools or Customer Relationship Management (CRM) software for creating a more professional workflow.
What is kiosk mode?
Kiosk mode is a popular feature offered by MDM software that locks down a device to run one or more approved apps or functions while blocking all other features. This makes kiosk mode an ideal solution for business organizations that intend to use digital devices for a specific purpose which can include self-service kiosks, product catalogs, and digital signages.
How kiosk mode can be incorporated with other enterprise solutions?
The following are the ways businesses can benefit from kiosk features by using them in conjunction with other enterprise systems.
Integration with Customer Relationship Management (CRM): It is important software that is widely used in corporates for analyzing data and managing interactions. With the fusion of CRM and kiosk mode, corporates can provide a more efficient and personalized customer experience. For instance, with the help of kiosk mode, an organization can turn a traditional device into a self-service kiosk that can be used for placing orders, services, and products. It can be integrated with CRM software and based on customers' browsing history or previous purchases tracked and maintained by CRM, the kiosk can display recommendations or personalized offers that can eventually increase sales and revenue.
Inventory management tools: Another important benefit of kiosk mode when integrated with enterprise systems is inventory management. Business organizations employ inventory management tools to maintain records of inventory levels, improve purchasing decisions and handle the supply chain effectively. For example, an organization can use kiosk mode to develop a digital inventory management system that helps them in maintaining track of inventory levels, generate alerts in case a certain stock is running low, and update inventory levels accordingly. This minimizes the probability of overstocking or stockouts by ensuring a more efficient and streamlined inventory management system.
Advantages
The integration of kiosk mode with other enterprise software or system helps organizations in several ways that are discussed below.
Efficiency: The fusion of both of these technologies can provide an efficient system for automating processes and streamlining workflows. This helps enterprises in saving money and time while improving the user experience.
Accuracy: Another important benefit of this fusion is improved accuracy. The integration of kiosk mode with enterprise systems helps in reducing the possibility of inconsistencies or errors. It further improves the quality of analysis by minimizing data duplication and false information. Based on the data analysis, the supply chain can be managed and prevent organizations from issues related to overstock and stockout.
Competitive advantage: The use of kiosk mode with other management software assists organizations to remain competitive. By ensuring improved customer experience and efficient workflows, businesses can improve their services which differentiate them from their competitors. In this way, organizations can attract or retain customers.
Conclusion
To conclude, the assimilation of kiosk mode with other enterprise systems can bring significant advantages to businesses, which include improved accuracy, increased efficiency, and competitiveness. As organizations continue to adjust to the requirements of the fast-paced business world, integration with other corporate software will become extremely important in attaining their goals.