Applications of kiosk mode and digital signage in different sectors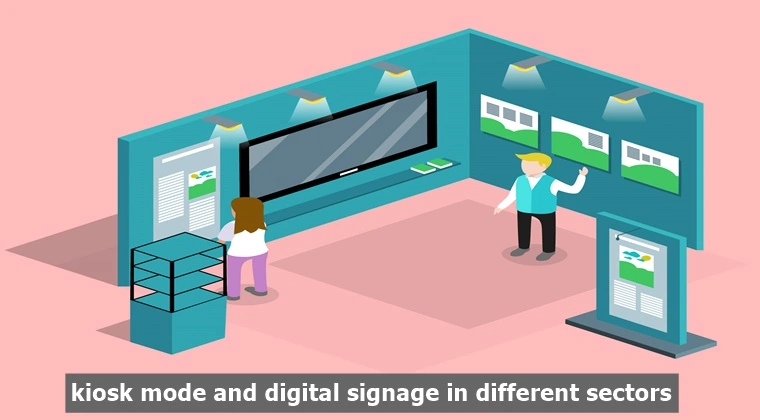 Introduction
Digital signages and kiosk mode are two emerging technologies that have transformed the way corporates and businesses interact with visitors and customers in public sites. The major objective of the kiosk mode offered by the Mobile Device Management (MDM) solution is to regulate the functionality of digital devices in a shared environment, whereas digital signage presents a platform that displays interactive and dynamic content on screens placed in public areas. The combination of these two technologies using MDM software can do wonders as it is capable of creating informative and engaging displays in various domains such as museums, retail stores, hospitals, and airports. The kiosk feature offered by MDM solution can convert a traditional device into digital signage that can be used in the following ways.
Interactive and dynamic displays
Digital signage enabled by kiosk mode can play important role in creating interactive and dynamic displays that engage visitors and customers. For instance, with the help of kiosk mode, a retail store can show product information and other promotional content on a screen so that customers can make relevant purchases. Likewise, by using kiosk-enable digital signages, businesses can create an engaging and immersive experience for clients that eventually result in improved sales and customer loyalty.
Improved shopping experience through self-service kiosk
The kiosk-enabled digital signage can be used in retail and hospitality for checking in to restaurants, placing orders, and making payments without any help from the staff. To improve user experience, the role of digital signage is pivotal as it provides a more convenient and seamless experience for clients. For example, a restaurant can use digital signage to present information about menu items and prices. The customers view this information to place orders that improve sales and user experience.
Information displays
Digital signage and kiosk can be used to provide information and wayfinding displays in public places. For instance, an airport can use kiosk-enable digital signage to display flight information, maps, and direction to assist customers in navigating through the airport. Furthermore, these devices also enable passengers to check in without interacting with the staff.
Personalized advertising
Another important use of kiosk-enabled digital signage is to create customized advertising displays in public spots. By using customer preferences and data analytics approaches, corporates can now create relevant and targeted advertising content to be shown on screen. For instance, using customers purchasing history, a retail store can customize promotional content and product recommendations to display on the screen. This eventually results in increasing sales and gaining the trust of customers.
Conclusion
In short, the integration of digital signage and kiosk mode presents a wide range of applications for organizations and businesses interested in creating interactive and dynamic displays on public sites. From self-service kiosks to personalized advertising, the possibilities are nearly infinite. As technology continues to evolve, more innovative applications regarding the fusion of digital signage and kiosk could be explored. However, such huge reliance on technology increases the need for enhanced data security measures to prevent information exfiltration and unauthorized access.