Role of MDM in logistics and transportation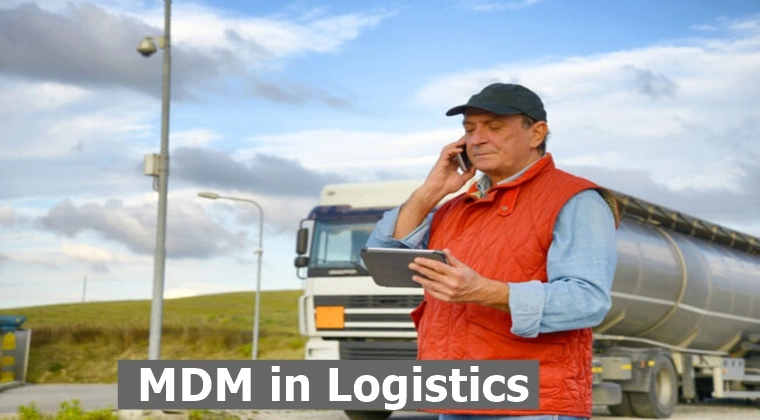 The logistics and transportation industry has been witnessing a gradual change in working dynamics since the last decade. For customer satisfaction, trucking companies, shippers, and good carriers continue to embrace novel technologies. The main purpose of this advancement is to streamline delivery processes, goods storing systems, packaging procedures, and procuring methods.
However, the incorporation of technologies like smartphones, tablets, laptops, and desktop systems at such a massive scale is causing several security and administrative issues. The huge number of unmanaged devices puts the company's data and reputation at stake. In such a scenario, Mobile Device Management (MDM) tool emerges as a promising technology in terms of providing remote device management system in compliance with organizations' policies and procedures.
Some of the MDM services in transportation and logistics are discussed below.
Inventory management:
With the ever-increasing organizational setup and infrastructure, it becomes cumbersome for administrators to keep track of the device fleet all the time. In this scenario, Mobile Device Management (MDM) tool plays a pivotal role as it is helpful in determining where the corporate's assets are present at a particular time. It supports the transportation and logistics industry in the following ways:
Tracking the location of the device in real-time.
Creating geo-fences and being notified in case the driver infringes geo-fence.
Automating actions to be taken such as screen lock, alert generation, etc. if the device steps out of a particular area.
Maintaining a history of drivers' location for analytics and future planning
Kiosk mode:
MDM tool also works as kiosk software, and it ensures that employees remain engaged, productive, and focused throughout their working hours. It restricts the device to run one or more professional business apps required to perform duties while blocking all other apps, configurations, and websites.
Both the single-app and multi-app kiosk modes are the most important MDM services to assure a distraction-free working environment in which the devices are not misused by drivers. For instance, accessing social media or other entertainment websites on corporate devices during long routes or wasting their time by sitting idle. This negatively impacts the efficiency of employees and puts driver and vehicle safety at stake.
Similarly, the kiosk application software helps in converting traditional tablets or mobile phones to Electronic Logging Devices (ELDs). The ELD app is configured to work in the foreground so that the device remains active all the time and all other activities are blocked.
Device configurations:
MDM plays a very important role in configuring device settings by defining a unified policy. These configurations can include disabling the touch screen at a certain speed for drivers' safety, and deactivating the power button for device tracking if it's lost. Other important MDM services include the use of VPN for secure communication, enabling/disabling screen rotation, volume buttons, camera, Wi-Fi, location, GPS, airplane mode, notification bar, and home button. Whenever a new device goes on board, all the apps, configurations, and settings automatically get pushed according to the policy associated with a specific group.
Compliance:
Nowadays, logistics and trucking companies must comply with regulations like FMCSA's administered Electronic Logging Device (ELD) rule for ensuring a safe and secure work environment for drivers by tracking, managing, and sharing Records of Duty Status (RODS) data.
The ELD harmonizes with the engine of a vehicle to track driving time and service hours. To avoid penalties, the trucking organizations can conform to this law either by procuring dedicated ELDs with pre-installed software or by converting the traditional mobile device or tablets into ELD by installing a specialized ELD tracking app.
The mobile ELD option is quite popular among small fleets and owner-operators due to its low cost and ease of operation and installation. The MDM services like single app kiosk mode are quite valuable in this regard as they allow admins to enable the ELD tracking app to work in the forefront by disabling the power-off feature.
App distribution to field employees:
Using MDM, admins can easily push required enterprise apps, web shortcuts, configurations, and settings over the air to perform daily operations. MDM software provides IT admins an opportunity to install pre-configured apps with predefined permissions, settings, and logins to employees' devices to ensure hassle-free and flexible application onboarding. Likewise, malicious URLs can also be blocked to ensure the security of the device.
Remote management:
Direct contact with truck drivers is rarely possible in logistics and transportation as they are working far from the team at different locations due to which maintenance activities on a device cannot be performed in time.
The MDM tool is beneficial in this regard as it manages timely updates, repair tasks, and data distribution remotely. Moreover, in case the device has some problem, the IT admin can take control of the device remotely to perform maintenance operations rather than waiting for a vehicle and device to return. In this way, drivers can focus on their tasks without the need to worry about technical issues and their solutions.