Kiosk Mode in Android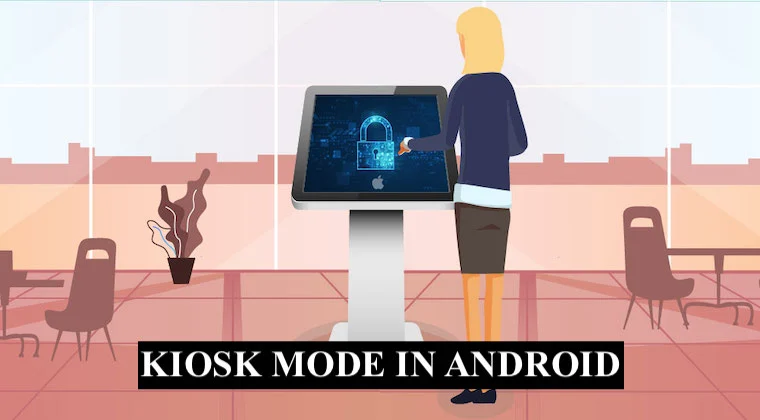 Android kiosk mode can be considered as a lockdown approach that provides administrators an opportunity to operate one app or a pre-determined set of applications on Android mobile devices to function as a kiosk. Once kiosk mode in Android is enabled, the mobile device functions in an immersive restricted environment in which intentional or unintentional misuse of a device or its configuration can be completely evaded. The kiosk mode in Android devices typically works in two modes.
Single app kiosk: In this mode, only one application remains active on the mobile device all the time to perform the intended task. This application automatically loads at startup and the user is unable to switch to other software or simply exit the application. All attempts to quit or terminate this application are blocked by the administrator.
Multi-app kiosk: In multi-app mode, the user can access a pre-defined set of approved applications while access to all other resources remains inactive. For example, an administrator wishes to provide access to three apps only that include a calculator, inventory tracking, and billing applications. For this setting, once the multi-app kiosk mode is active, the user can only view the icons for these three pre-defined applications on the home screen.
Features of Kiosk Mode for Android
Apart from the application restriction, other configurations of a device can also be regulated with the help of Android kiosk software.
Peripheral controls: Besides app blocking, all other basic functionalities of a device can also be blocked, which includes home buttons, notification bar, power, volume, and shutdown options, when it comes to multi-app Android kiosk mode. Likewise, built-in peripheral functions can also be controlled in multi-app kiosk mode. For instance, the camera, GPS, Wi-fi, audio, Bluetooth, and screen orientation can be blocked, and the user cannot turn these on/off these options by using any means.
Customization: Moreover, to promote branding, administrators can customize the icons and their orientation, set up custom wallpaper, and add company titles on the home screen of mobile devices. It is an effective strategy for promoting a business.
Security: For an additional layer of security, the password for accessing a particular app can also be enforced. In this way, authorized users can only access kiosk-enabled apps.
Applications of Android App Kiosk Mode
Due to numerous advantages like ease of use, better user experience, efficient multi-tasking, ergonomic design, better performance, and customization, Android Operating System is the most widely used OS with over 2.5 billion users. Therefore, Android kiosk mode is used in almost all important sectors, which are discussed below.
Hospitality: The majority of restaurant chains make use of kiosk mode to manage customer feedback, inventory, and order placement. Likewise, Android tablets with enabled kiosk mode can be used in hotel lobbies to provide information regarding check-in and other facilities.
Education: In this sector, the kiosk mode of Android is helpful in imparting quality education remotely. Educational institutions now lock down mobile devices to some specific apps like zoom to promote learning while blocking all other games or social media apps to avoid distraction.
Retail: In retail, kiosk-enabled devices are used at check-outs and as digital signage for showing promotions and discounts.
Healthcare: To provide health services, Android kiosk devices are used for accessing patient data, check-in, and monitoring. Moreover, this is a highly regulated sector so to achieve compliance with laws, the restricted environment of kiosks really helps.
Transportation and logistics: To track the location of drivers in real-time, the kiosk-enabled mobile devices play a vital role.